Equestrian team recruits for new season
February 1, 2019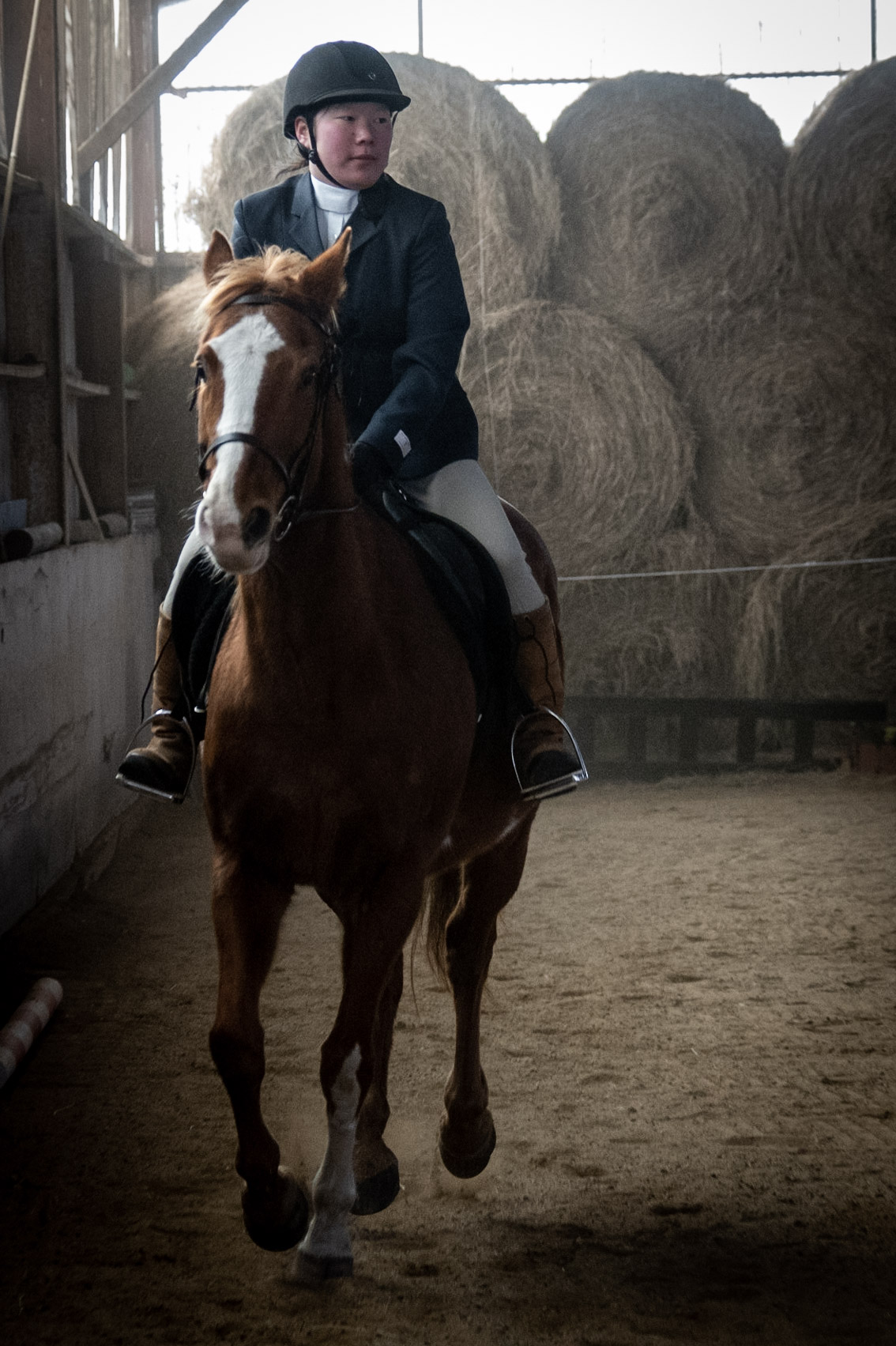 Although many student-athletes at Bowdoin are fortunate enough to take advantage of acres of playing fields and Farley Field House, one team prefers grass fields for grazing instead of playing soccer. The Bowdoin equestrian team has embarked on a new season, bringing horseback riding to beginners and advanced riders alike.
After a brief hiatus last year, the team started up again this fall. Captains Olivia Blair '21 and Grace Hambelton '21 jumped headfirst into the responsibilities of managing the club.
As first-years, both Blair and Hambelton joined the equestrian team before its dissolution, seeing the challenges the team faced firsthand. For starters, the barn where the team practiced was 40 minutes away from campus, making travel burdensome. Additionally, the barn's management was uncooperative and its schedule overtaxed, making it hard to book practice time.
"Last year the team was in a transitional period [because] we were trying to find a new barn, so it just took a while to get all the paperwork settled, so by the time it was done, the year was almost over," Blair said.
This year the team's seven members are riding at Underwood Farms in Brunswick, only about a 10-minute drive from campus. Students work with a trainer during riding lessons twice a week.
The new location has proved to be a boon to the team's planning.
"The barn is so much more convenient to get to and the instructor is much more accessible, so it's much easier to have a team," said Blair.
The team currently participates in local showings, but hopes to compete in the Intercollegiate Horse Show Association (IHSA), which has 400 member colleges across the country. With many members having just taken up riding, the team is not yet ready to compete at the national level.
"You don't get points as a team [in local showing] which is what happens with IHSA, but we are hopefully going to get back into that next year," says Hambelton.
Aside from a higher level of competition, the league is appealing because it assigns riders specific horses to ride at the show, removing the difficulty of having to own a horse and thus the inequities that result from spending more money on certain horses to breed and train them than others. In local showings, where riders have to bring their own horses to competitions, these factors mean that wealthier competitors have an edge.
The team has made considerable efforts to make the team affordable through its Student Activities Funding Committee (SAFC) funding, says Blair. Lessons, which are $70 a week, are now funded for the first time by the SAFC. The team also uses the funds for shows and team gear.
For now, the team is hoping to expand its membership. It had almost 20 new sign ups at the club fair this week.
Hambelton noted that new members will have to work hard in order to improve, but she believes that the joys of the sport are worth the effort.
"It takes a lot of commitment to get good, as with everything, but we both find it very rewarding and it's kind of unique as a sport because you bond so much with the horses," says Hambelton.
"It's sitting on top of a 1,000-pound animal and controlling it and being able to learn how to ride them is really interesting and fun," added Blair.
Having ironed out a lot of logistical challenges, one remains: the horses' temperaments.
"They are very opinionated," said Blair. "Each horse has their own personality and you kind of have to figure it out."
For Hambelton, however, the equestrian team is ultimately a way for her to disconnect from campus stresses and reconnect with her peers.
"[Riding is a] stress reliever for me," she said. "[I'm] at my barn and there is a great community and I've made friends through it."