Volleyball brings NESCAC tournament back to Bowdoin
November 2, 2018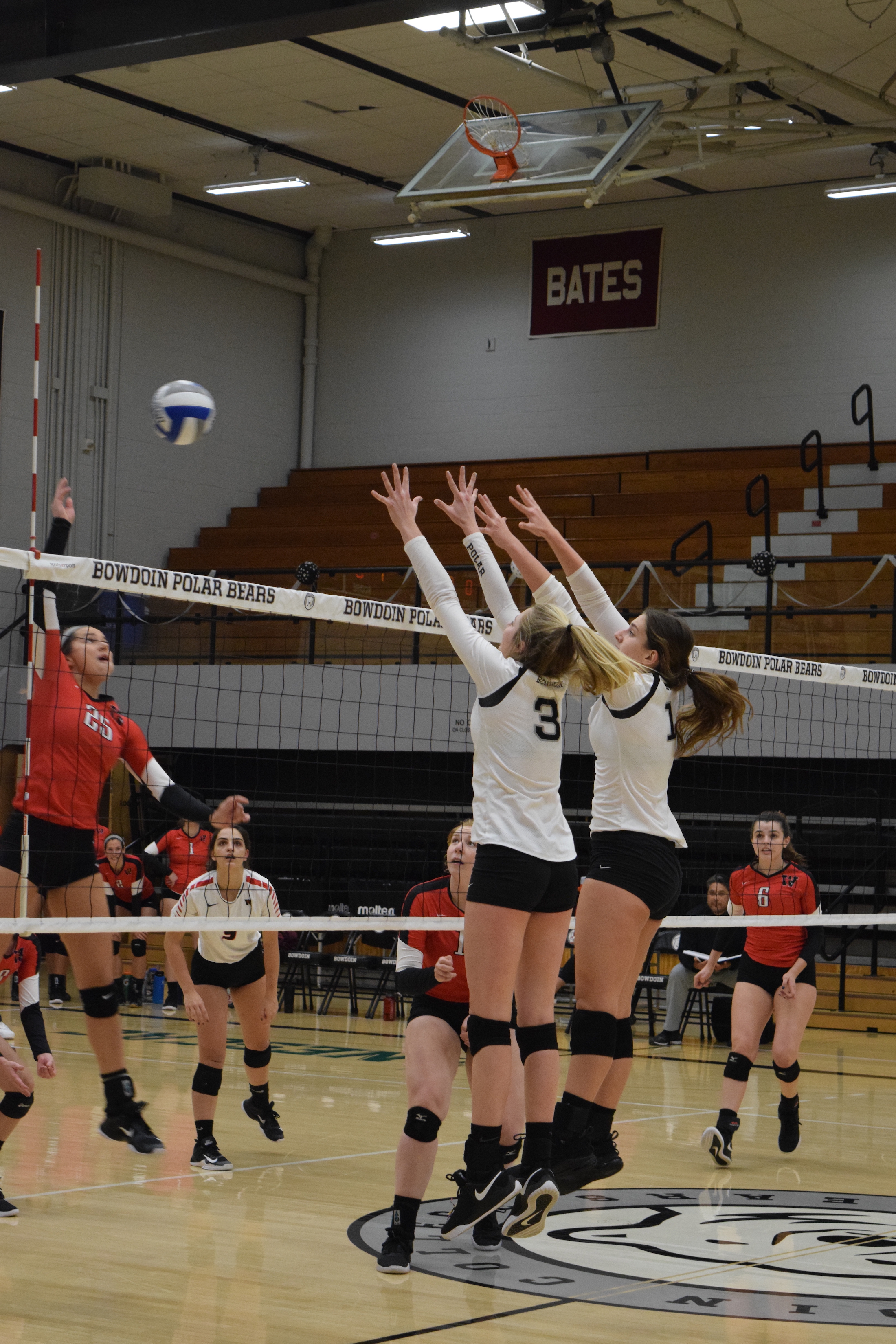 The NESCAC Volleyball Championship will be coming to Bowdoin this weekend for the first time since 2015. With a current record of 24-1, the team has put forward its best regular season ever and looks to continue that success in the postseason this year.
"Hosting is always a good way to start off the conference championship weekend, to have the home court advantage," said Head Coach Erin Cady, "but also just in general to really reward our team for all the hard work that they've been doing this season and to get the regular season title. So we're all excited."
The Polar Bears secured hosting rights and the No. 1 seed last weekend with a 3-1 win over Wesleyan (16-4, 9-1 NESCAC), leaving Bowdoin as the only team with a perfect record against in-league opponents.
"We knew it was going to be a battle going in because Wesleyan was 8-0, we were 8-0 and we knew that that was going to be our top priority, but the players handled it well," said Cady. "I think it was really awesome to see the crowd that we got and how much they supported our team, and it definitely made a difference, which was nice."
Having a very energetic home crowd helped Bowdoin take down Wesleyan in four sets, and the team hopes the Bowdoin community will rally this weekend to create the same dominant atmosphere. However, they recognize that while it is an advantage, they can't allow themselves to get too confident.
"Having our home crowd supporting us will be a really big advantage, but also the past two years the winner of the NESCAC Championship hasn't been the host, so it will just be really important for us to play our game," said captain Lisa Sheldon '19. "[We need to] work hard, work our hardest, because during the playoffs everyone starts out 0-0. It can be anyone's game, so we just have to really stay focused and do what we've been doing all season."
Wesleyan—the No. 2 seed this weekend—isn't the only opponent to look out for in the tournament. Bowdoin went to five sets against Tufts, Williams and Middlebury this season, and while the Polar Bears came out with the win in each match, the hard-fought contests just further show that nothing can be taken for granted this weekend.
"What's really nice about our conference is it's super competitive, it's really hard. Each team has a strength, and so being able to determine what that strength of that team is helps set us up for success, but it's really hard to compare team to team because they're all really good," said Cady. "I would just say at this point, at this level and into championship weekend, it's definitely going to be a lot of competitive matches."
"Every team we've played so far in the NESCAC has brought out their best game against us, and they just play their hardest, and we're expecting nothing less in championship weekend," said captain Sydney Salle '19.
Bowdoin's first match will be against No. 8 Trinity (13-10, 2-8 NESCAC) at 5 p.m. tonight in Morrell Gymnasium. While the Polar Bears handily beat the Bantams 3-0 in the regular season, Trinity has shown a lot of improvement in the last month. The team was present for Trinity's 3-2 victory over WPI (21-8) on October 19. This experience, along with game film, gave the Polar Bears a better idea of what to expect tonight, and showed that the Bantams shouldn't be underestimated, especially in tournament play.
"We beat Trinity earlier this year, [but] they've definitely gotten better throughout the rest of the season, so [we are] just not taking them lightly and taking care of what we have to do," said Salle. "Definitely treating every team we're playing like a threat, and then once we finished that game, working to the next one."
In order to prepare for the wide range of competition in the league, the team is focusing this week on the strengths and strategy that have gotten it this far.
"Our big strategy just going into the weekend is making sure we take care of us and we stay true to who we are—that we just continue rolling with that and then making the small adjustments as we go team to team," said Cady.
When asked about what has led to the team's success this season, Cady noted the Polar Bears' chemistry and depth.
"All season we've been so strong in our numbers and our depth, which really has made a difference because, if you think about it, Monday through Thursday when we're in practice, we want to play against the best team in the NESCAC and that's probably our second string," said Cady.
The team's season has been an outstanding success so far, and everyone's sights are set on bringing home a NESCAC title.