Swimming crushes Colby, looks towards NESCACs
February 9, 2018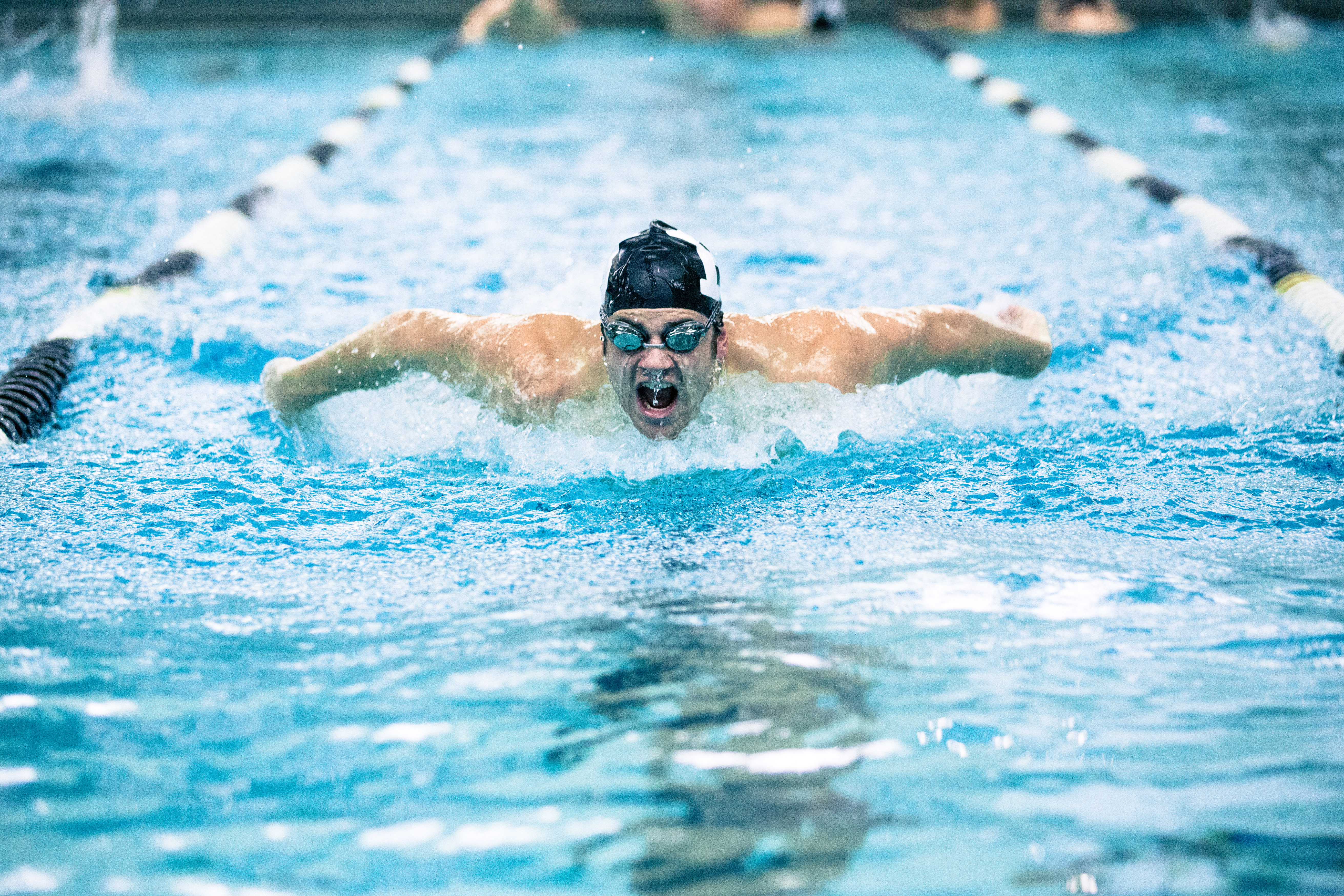 After an impressive victory by the men's and women's swimming and diving teams over the Colby swim teams this past Saturday, each is looking to succeed in the NESCAC Championship, which begins on February 16.
At Colby, the men's team closed with a score of 197-79, and the women's team came in at 204-64. The men performed particularly well in the 100 and 200 butterfly races, where the Polar Bears took the top three and four spots, respectively. The women's team won every event that took place on Saturday, picking up first and second in the 200 butterfly, 800 freestyle relay, 100 free and one and three meter diving, among others.
The captains of the women's swim team, Mariah Rawding '18 and Linnea Patterson '18, attributed a lot of the team's success to its first year members, who they say have changed the team dynamic and increased competitiveness.
"It's been my favorite season, it's been really good," said Patterson. "[The first years] have brought a lot of depth to the teams, they bring a lot of intensity to practice. They're spread across the board in the training groups, so there's some of them in each group to train with. I think we have a really tight-knit team this year," she said.
"Everyone has a mentality about training this year that I think is unique to this year, and I think it's why we have a better record and we're setting more records in season," said Rawding.
The presence of a new assistant coach, Pamela Torrey, has also helped the women's team this season. After retiring from the Office of Development this past spring, Torrey has volunteered her time to assist the team.
"I've known [Torrey] since I came to Bowdoin," said Head Coach Brad Burnham. "She's been just an awesome addition, just another person on deck who loves swimming, coaching and helping kids get better. It's really increased our ability to coach one on one or in small groups a lot better."
Patterson and Rawding believe that Torrey's presence has provided crucial moral support for the team this year.
"[Torrey] will keep you going. She is like the mother of the distance group, because they'll have really long practices where you need an emotional support figure on the deck who can say 'You have two more, let's keep it going,' or something like that," said Patterson.
For the men's team, Burnham has noticed improvements this season that have given the team an edge as well.
"The men have gotten better in their short sprinting races," said Burnham. "[They] may be a little stronger in breaststroke than [they've] been. [But they are] just as strong through the middle."
Burnham believes that Bates poses a challenge to Bowdoin in the NESCAC Championship for both teams. The team beat the Bobcats for the first time in four years on January 19. Captain Stephen Pastoriza '19 says that beating Bates again at the NESCAC Championships is a main goal for the team.
"At the beginning of every year we're like 'We're going to beat Bates this year, it's our big goal,' and it hasn't happened till now," said Pastoriza. "As a team, I think we want to beat Bates again, and be in the top four."
For both teams, expectations for the NESCAC Championship are high. According to Rawding, the teams hope to qualify some relays and individual swimmers to Nationals.
"I think if everyone swims to the potential that we think and know they can swim, we'll see really good results. We'll be high in the rankings," said Patterson.
"I expect that the hard work that they put in will pay off, because they worked really hard this year," said Burnham.
The women's team will compete for the NESCAC championship February 16-18 at Williams. The men's event will be held at Bowdoin the following weekend.