Men's hockey starts semester with three conference wins
January 26, 2018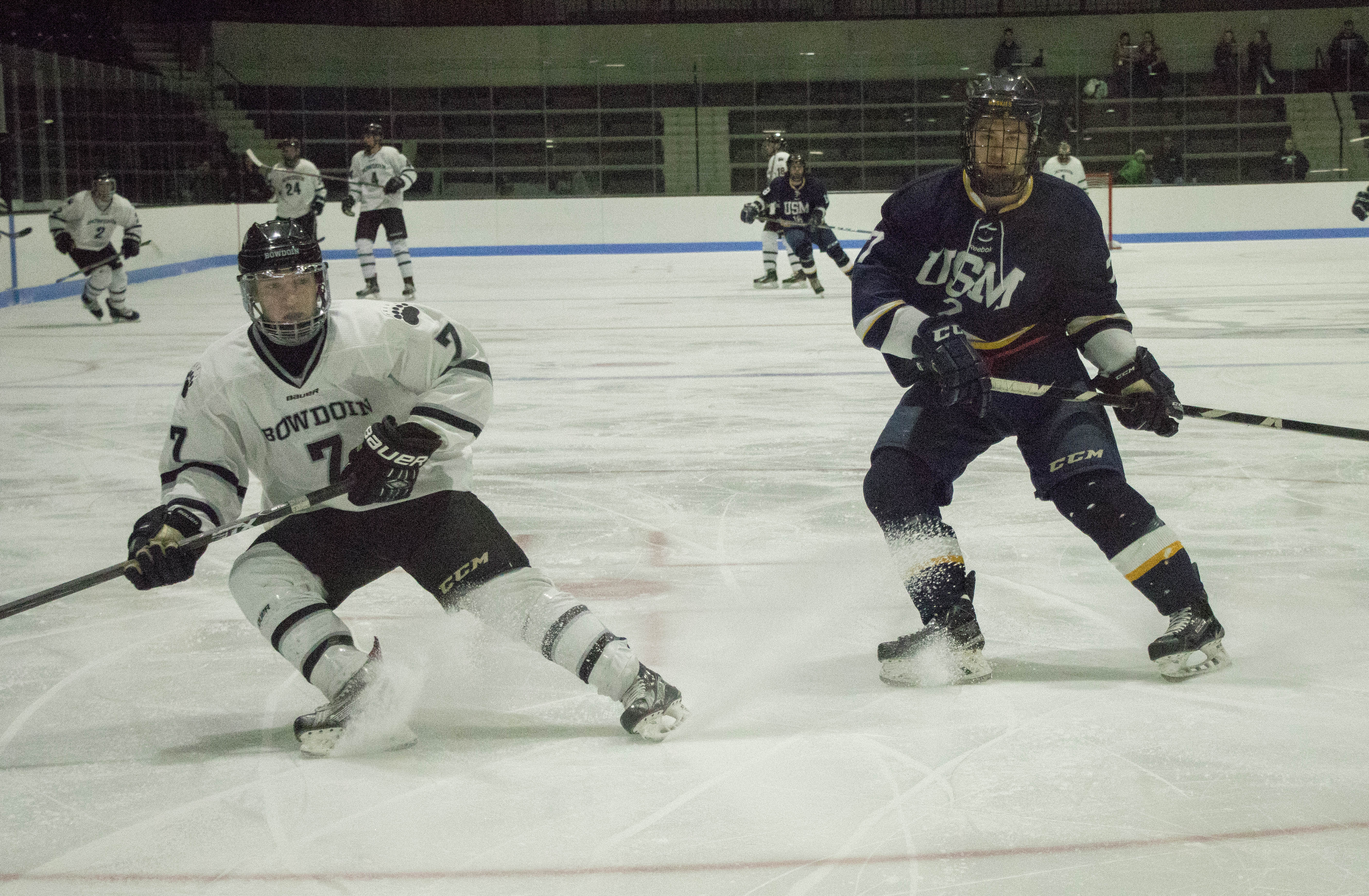 Men's hockey (7-11-0, NESCAC 4-8-0) had a successful weekend, coming away with two conference wins over Williams (10-6-0, NESCAC 6-4-0) and Middlebury (4-12-0, NESCAC 2-8-0). The Polar Bears followed this with a 2-0 home victory against the University of Southern Maine on Tuesday.
Despite losing to the Ephs 4-3 earlier this year, the Polar Bears came back with a vengeance, winning Friday's game 4-1. They then carried the momentum into the next game to defeat Middlebury 2-1 on Saturday.
"[Williams] is a fast and aggressive team that can capitalize on mistakes," captain Daniel McMullan '18 said. "When we played them in the first game of the year, it was a tight game, but we didn't play our best hockey until the third period. Coming into the game Friday, it was going to be very important that we played a complete 60-minute game in order to get the outcome we wanted."
According to McMullan, the two conference games this past weekend will affect the team's further performance in upcoming NESCAC games.
"Anytime you sweep a weekend in this league there is a good feeling in the locker room," McMullan said. "It builds confidence, but it also builds momentum. We saw this weekend the type of hockey we need to play in order to have success, and we want to build on that moving forward."
McMullan explained how the time spent at home during break was a good time for the team to recuperate and prepare to return to campus in prime condition.
"At home, break is about maintaining where your game is," said McMullan. "In the first semester, we play 10 games in three weeks, which is a pretty compact schedule. Break is a good time to get some rest and get healthy, but it's also important to keep your strength and conditioning levels up. You want to be as close to game shape as you can be when we get back to campus the last week of December."
Once returned to campus, the Polar Bears spent a majority of their Winter Break focused on improving themselves and their play.
"When we get back to campus, it's nice to have a few weeks of just hockey," McMullan said. "You can really take care of your body in ways that are difficult to when classes are going on. Guys have the chance to get to the gym, ice bath and stretch regularly, skate on their own after practice, etc."
The players are dedicated to getting all they can out of their practices each time their skates hit the ice and making sure that they play competitively for the rest of the season.
"We want to continue playing fast, physical, smart hockey for 60 minutes a night," McMullan said.
The Polar Bears will have a week off until they travel to Amherst to face the Mammoths on February 2 at 7 p.m. before playing at Hamilton the next day at 3 p.m.