Track and field gears up for home NESCAC Championships
April 27, 2017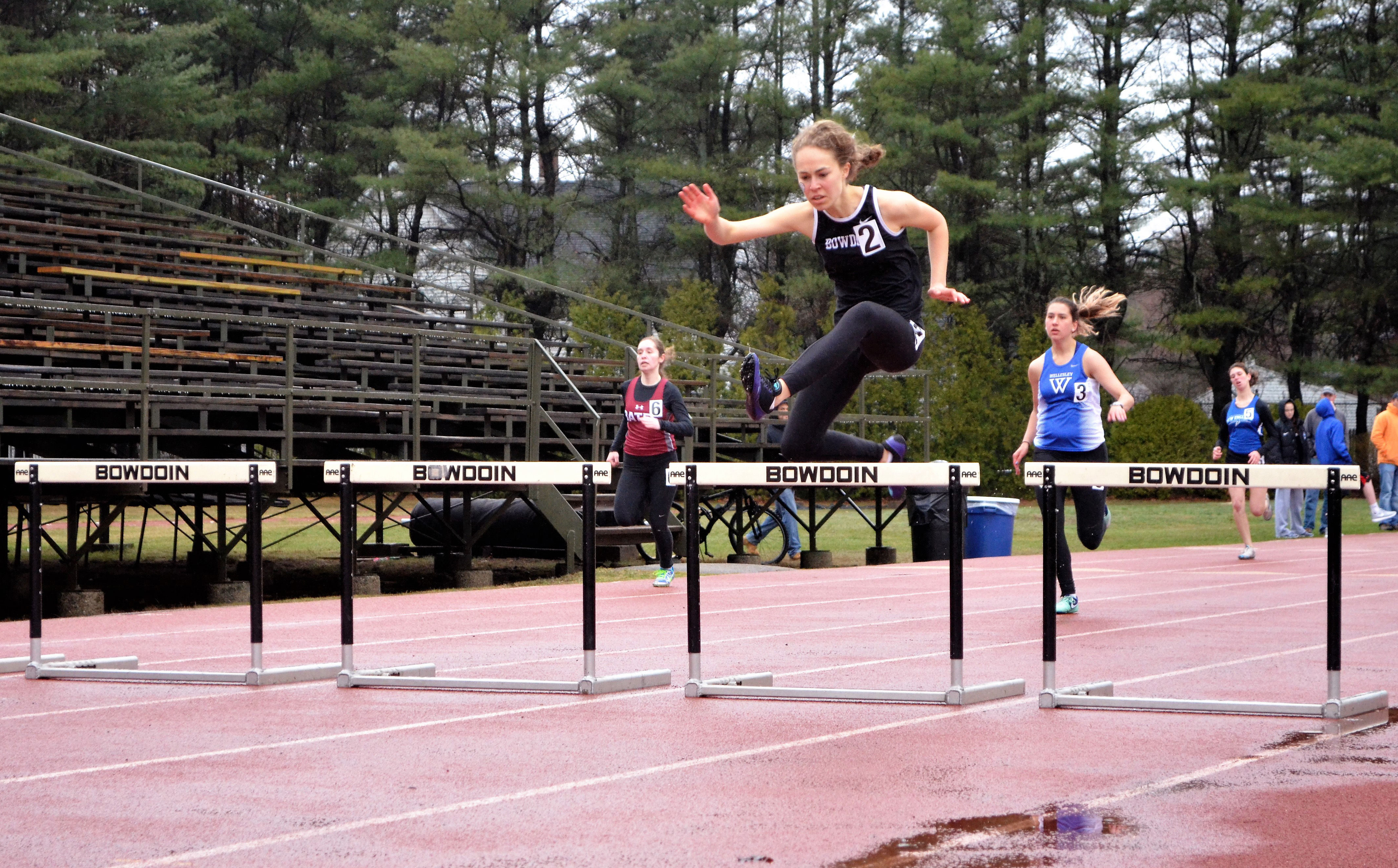 This weekend, Bowdoin will host the NESCAC Track and Field Championships for the first time since 2006. The women's and men's track teams are coming off of first-place finishes in their last two respective meets and will look to extend their success through this weekend.
Last weekend, the men's team won its first Maine State Championship title since 2009, an impressive recovery after a disappointing state meet during the indoor season.
"We were seeded to win [the indoor state meet] and we lost. That really caught us by surprise and that was a huge motivator for us to put in the work for the outdoor season," said Alan Banks '18. "I saw that we had a really good team and a really good freshman class. I just kept telling myself that we are definitely capable of beating them—it was just buying into that mindset."
With outstanding performances in the 110m hurdles, long jump and high jump, Joseph Staudt '19 was named the Alan Hillman Track Athlete of the Meet as well as the NESCAC Men's Field Performer of the Week. Wins in the steeplechase, 10k, 1500m, 100m and 200m dash also helped bolster Bowdoin towards a first-place finish over the five other Maine colleges competing at the event.
Meanwhile, the women's team hosted the Aloha Relays, where it swept the relays and the 10k as well as attaining several first place finishes. Samantha Schaeffer '19, Meghan Bellerose '17, Julia O'Rourke '19 and Sarah Kinney '19 claimed first places in the 200m dash, 800m run, 10,000m run and 3000m steeplechase respectively. On the field, Stefanie Mueller '19 won the high jump, Pamela Zabala '17 won the discus and Ellen Masalsky '20 placed first in the javelin.
The teams' success this past weekend sets them up well heading into NESCAC Championships, both on and off the track. Since athletes qualify to compete at NESCACs on an individual basis, the entire team will not be competing, thus strong team performances have united both teams as they head into this important weekend.
"I think it's nice to have people striving to qualify for NESCACs," said Demi Feder '17. "And since not everyone can go, its really good to have a meet where its team-focused the weekend before NESCACs so that people are not only motivated for individual qualifications but also to have the team motivation behind it."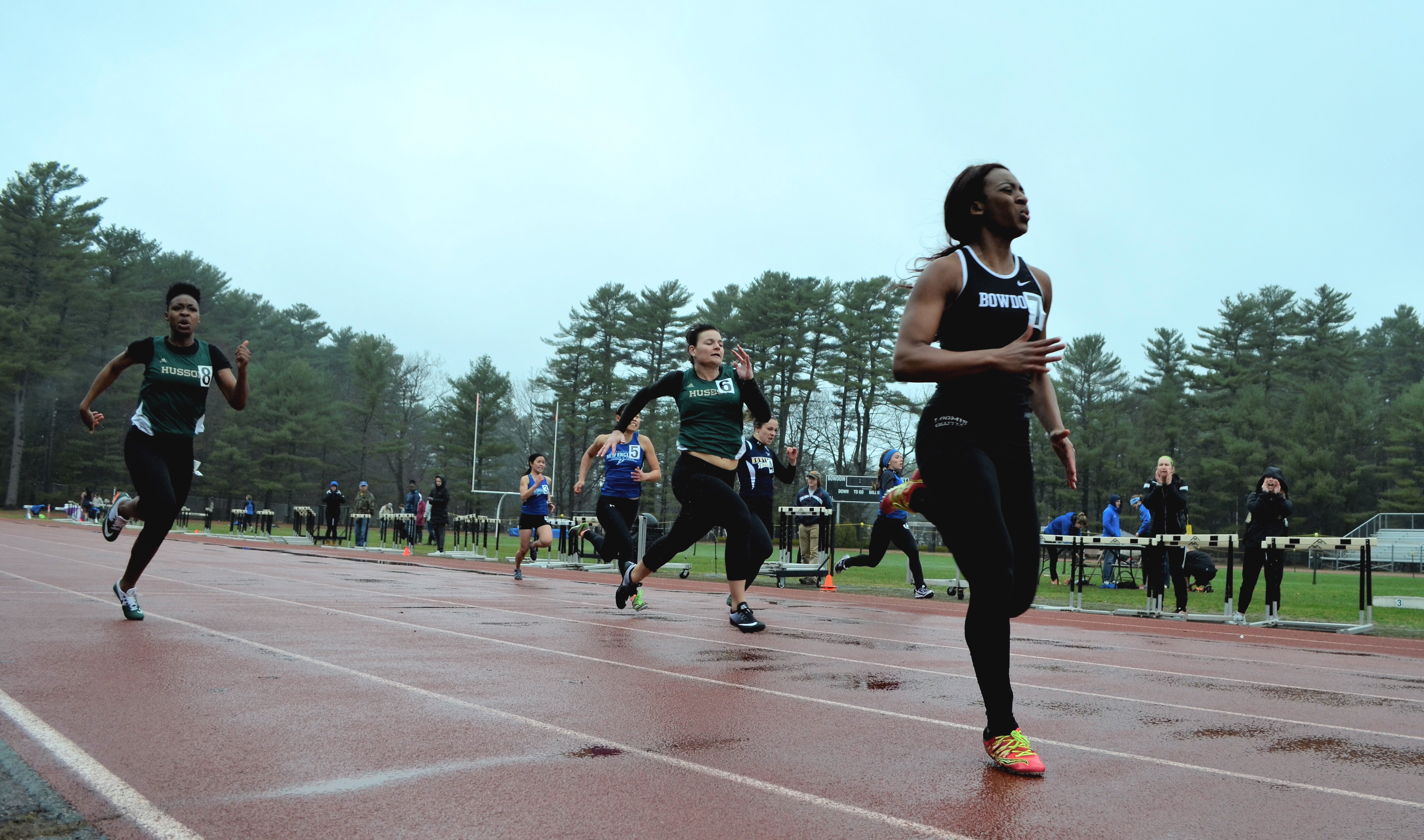 Historically, Tufts and Williams have dominated the women's and men's NESCAC Championships. Both teams look strong this year as well, as the Tufts men's team just moved into the top 10 and the Williams' women's team sits at No. 2 in the USTFCCCA Division III rankings.
"We definitely know that the most competitive teams in the NESCAC are Tufts and Williams," said Banks. "This year we are trying to go for third, maybe higher. I want to say we can even push for second."
Neither Bowdoin team has finished in the top three at NESCAC Championships since both took second place in 1998, but this year's Polar Bear squad has the talent and demeanor to be a real contender.
"We were never this amped before a meet," Banks said. "Before the meet, one of our captains gave a hyped talk. I wasn't used to that because generally track is a more of individual sport, but I liked how before the meet we were all brought together and that honestly contributed to our win that day. So hopefully going to NESCACs we'll have that energy and really push for third or second."
While similar weather conditions to last weekend will likely lead to a slick track, the team hopes to gain a sizable home-track advantage. With the added element of Ivies this weekend, hopefully the meet will draw a large crowd, which will give Bowdoin an edge over visiting teams.
"I think it will be nice, as seniors, to have it here. Not having to travel is really good for everyone's sleep and eating; it's just far more comfortable. So that will be a huge benefit of hosting it," said Feder. "I think people will really be excited to be home and have a huge crowd at our track."
NESCAC Championships will begin tomorrow at 10 a.m. on Magee-Samuelson Track.