Students reimagine 'Apple Tree,' challenge antiquated themes
April 14, 2017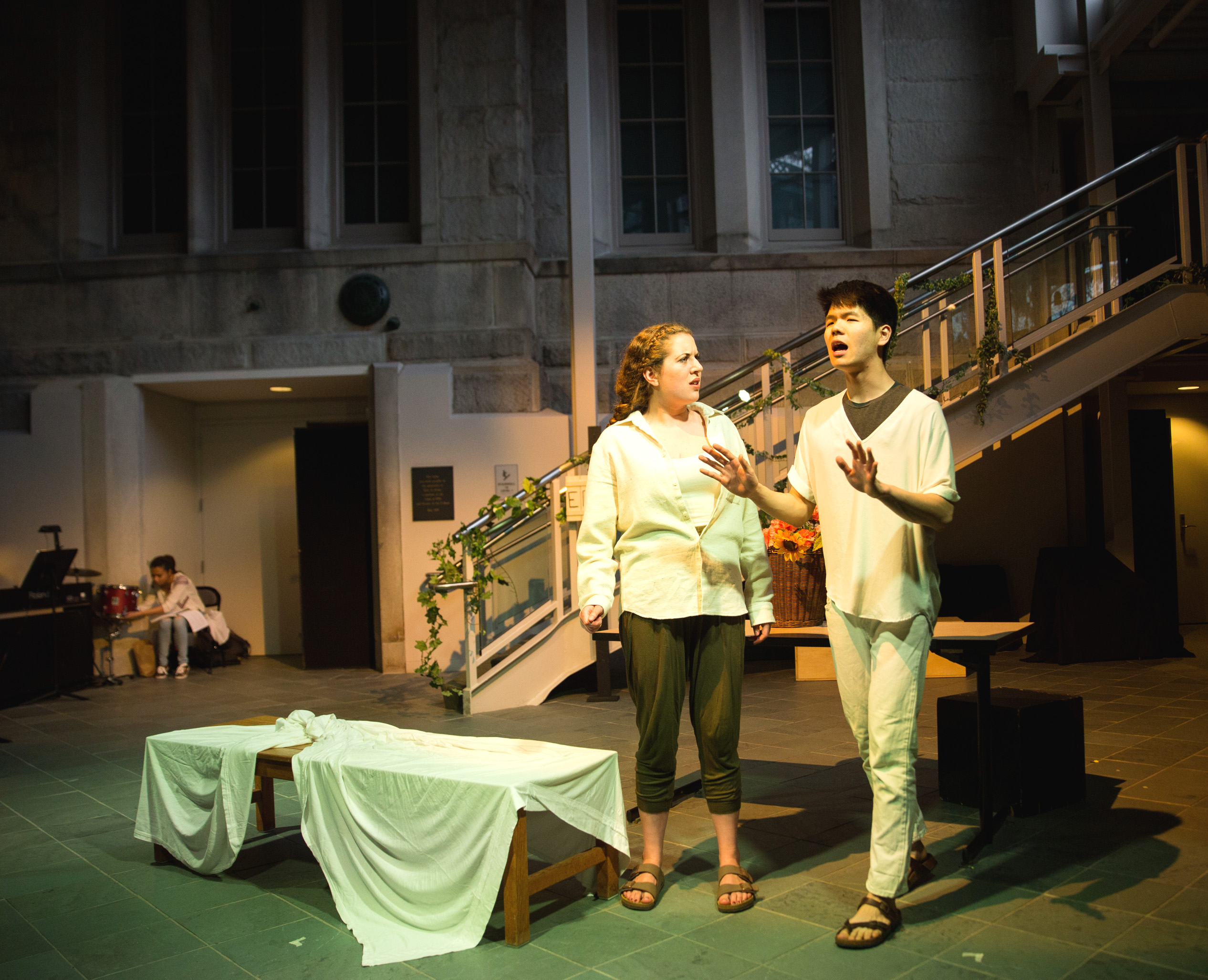 One of Bowdoin's student-run theater troupes, Curtain Callers, will subvert sexist and racist themes in a minimalistic, modified rendition of the 1966 play "The Apple Tree" by the writers of "Fiddler on the Roof." The musical, which will open this evening and run all weekend, is divided into three overarching stories of man, woman and temptation, and will feature only seven cast members in an unconventional theater: Drake lobby in Memorial Hall.
Director Jae-Yeon Yoo '18—who has previously music-directed "Next to Normal" and "Spring Awakening"—has adapted the musical to examine the problematic elements of the antiquated material and musical theater as a whole.
"I was really fascinated by how musical theater, especially as a genre, is still very much sexist or has a lot of sexist and racist themes present," said Yoo. "Even the musicals we love and pay homage to everyday, a lot of them have problematic material and 'The Apple Tree' is one specific instance where the material is pretty explicitly misogynistic."
Yoo has been very deliberate in her direction, straying far from the original, so as to satirize and address these issues. She hopes that the audience will take note of her non-traditional choices and approach them with an open mind.
"Brock and Harnick [the original playwrights] would turn over in their graves if they saw this," said Yoo. "If you come see the show, you'll notice that there are some non-typical casting choices in our production that vary wildly from the original. All of these are very intentional, and hopefully highlight the various stereotypes in a new way."
Monique Lillis '17, an actress in the musical, will portray the media as a modern representation of temptation. She has been in multiple shows throughout her Bowdoin career, and her performance in "Apple Tree" will be her last at Bowdoin.
"I really hope that [the audience] sees our critiques of media," Lillis said. "Especially present day issues and kind of the more conservative values that media can hold."
Lillis added that shows like "Apple Tree" that creatively challenge controversial themes in our society are important for Bowdoin and ideally will encourage reflection.
"[We're] really taking an old musical and saying, 'what does it mean to use [the musical] today,'" Lillis said. "I think that's extremely important, because history is there and we can't change history, but we can reflect back on it and say, 'this happened, so what can we do about it and how can we think about that now?'"
Yoo wants the audience to find the show entertaining as well as thought-provoking and hopefully experience a new way of looking at a gender or racial stereotypes.
"I just would like to emphasize that we're really not seeking to offend anyone and we've had lots of discussions as a cast about the material we're presenting," Yoo said. "If anyone sees the show and wants to talk more about it or question why I made the casting choices I did, I would be happy to talk and explain them."
"Apple Tree" will be performed tonight, tomorrow and Sunday in the Drake Lobby of Memorial Hall at 7 p.m.
Jae-Yeon Yoo '18 is a features columnist for The Bowdoin Orient.