Women's lacrosse upsets No. 1 Middlebury
March 31, 2017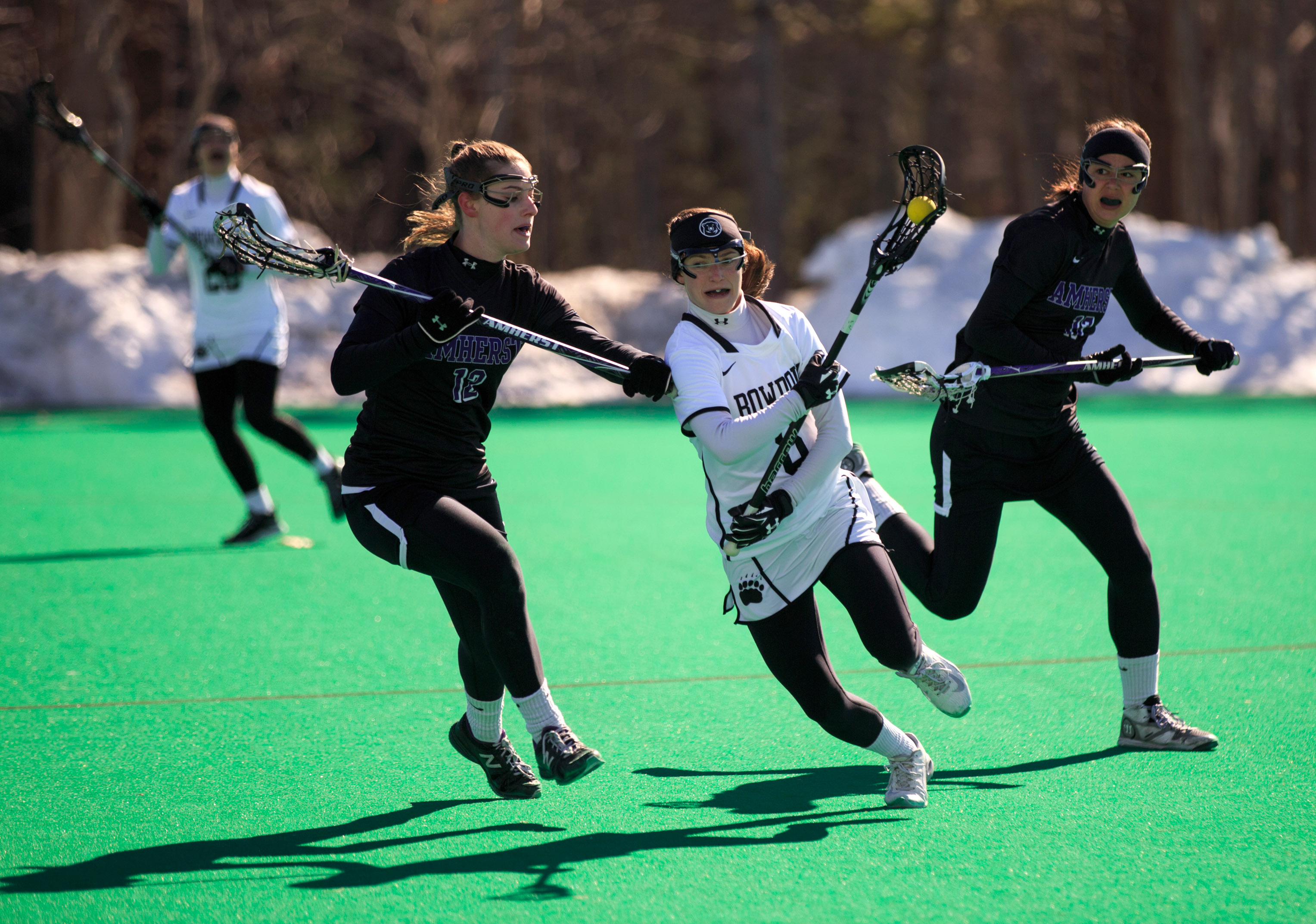 Last Saturday the women's lacrosse team shocked defending national champion Middlebury (6-2, 3-1 NESCAC) with an 11-10 overtime win. Prior to facing the Polar Bears, the Panthers were ranked No. 1 in the country with an undefeated record. The hard-fought victory also launched Bowdoin into the top 10 in the Intercollegiate Women's Lacrosse Coaches Association poll at No. 8 after entering the season ranked No. 15.
"We knew it was going to be a tough game, but we didn't want to really let on to anyone how big it was," said captain Anisa LaRochelle '17. "We just wanted to take it as another game, but I think we all had no doubt we would win. We just wanted to play with confidence and passion in that regard."
Neither team could acquire a lead greater than two goals throughout regulation and were sent into overtime with a 10-10 tie as the clock ran out.
The Polar Bears were able to stick with the dominant Panther offense, which has averaged 12.25 goals per game this season, by challenging Middlebury's defense during transitions.
"While watching film, we realized none of the teams that we watched film for had really pressed Midd on their transitions, and that's been one of our strengths this year," said LaRochelle. "So we tried to capitalize on that—quick transitions out of the defense to catch them off on their defensive zone."
This tactic proved to be a success as Middlebury was forced to change its defense from zone to man-to-man halfway through the game.
Bowdoin pulled through with a goal by Annie Glenn '17—her third goal in the game—just over a minute into overtime to secure the win. Glenn's outstanding performance earned her NESCAC Women's Lacrosse Player of the Week.
The team is hopeful that it will be able to build off this early success and set its sights on loftier goals as the season continues.
"We definitely have the potential to be NESCAC champions or NCAA champions, and I think that is a goal we have had in mind since the fall," said LaRochelle.
This weekend, the team will face Trinity (8-1, 4-0 NESCAC), which is ranked slightly ahead of Bowdoin in national polls at No. 6. The Polar Bears are confident going into the matchup, but they are wary of the dangers of complacency and are determined not to get ahead of themselves.
"In the close future, we are just going one game at a time, because we have some big games coming up," said LaRochelle. "Not to get too cocky—we definitely don't want to be in that position—but staying really positive and excited."
Trinity's offense is averaging 10.89 goals per game and the Polar Bears will have to rely heavily on their defense to stop the Bantams' offensive power.
"Our defense has gained a lot of confidence these past games because the competition has been really tough, but we've held strong, especially on one-v.-ones and such," said LaRochelle.
The clash between Bowdoin and Trinity is sure to be an exciting one for players and fans and will take place on Sunday at 2 p.m. at Howard F. Ryan Field. The game was originally set to be played tomorrow, but was rescheduled due to weather.