'Beauty in Color' fosters confidence, community
March 4, 2017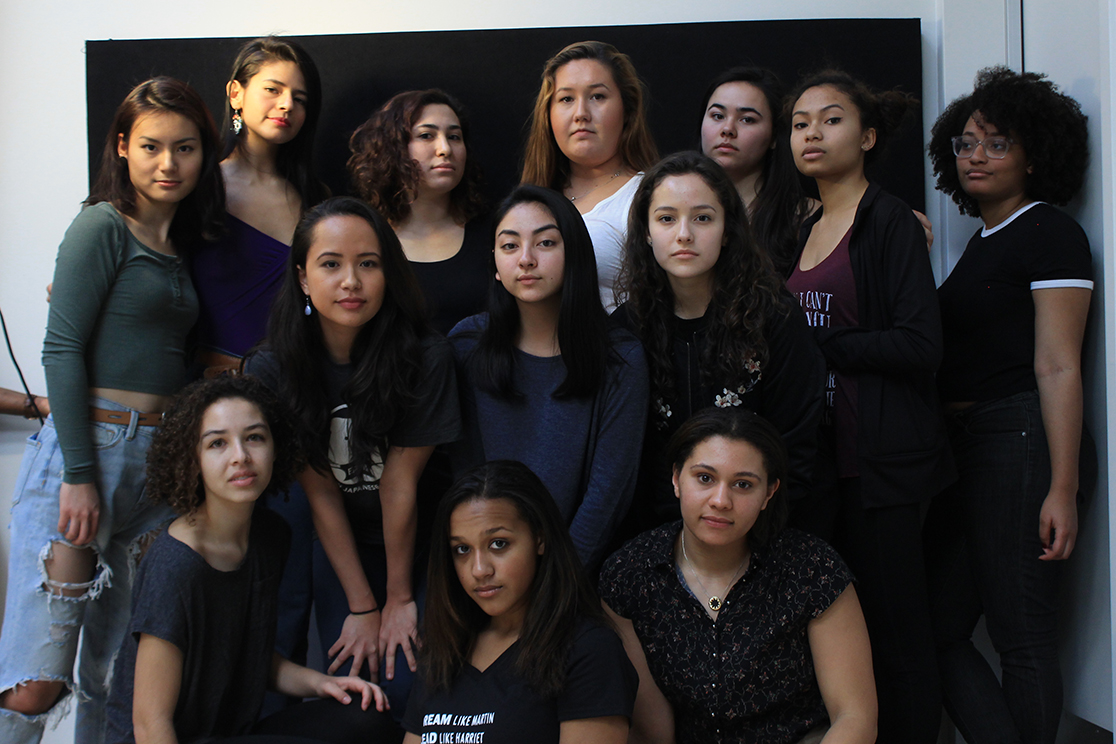 In an effort to explore the experiences of women of color within Bowdoin's largely white student body, the Women's Resource Center (WRC) has curated a photo gallery called "Beauty in Color," which seeks to foster confidence for women of color and challenge traditionally accepted, white standards of beauty on campus.
Organized by Rebkah Tesfamariam '18, Raquel Santizo '19 and Anu Asaolu '19, the inspiration for the event came from a paper Santizo wrote in her Feminist Theory class. Through writing the paper, she learned about the fears that women of color at Bowdoin have of being exoticized and fetishized, as well as feelings of invisibility amidst Eurocentric standards of beauty—especially on a predominantly white campus.
For the organizers of this event, it was more than just taking a pretty photo. They sought to generate dialogue among women of color through facilitated discussion about self-image and perceptions of beauty in relation to their identities at Bowdoin.
"Feeling beautiful may seem like a superficial thing, but the impact it has on somebody's confidence and the way that they feel both in and out of the classroom is an academic issue to me," Tesfamariam said. "So I think that if [women of color] were a topic of conversation that everyone cared about, not just women of color, or people directly affected by this, then it would be really powerful."
Santizo also asserted that the goals of this photoshoot were directly related to generating confidence that is rooted in beauty but extends into other realms.
"This translates to more than just beauty," Santizo said. "This translates to being able to speak up in class, because in the end this is all about confidence. Obviously beauty, especially in our society, is very valued, but I think this is bigger. I think taking the first step of listening that this isn't so great for your peer sitting right next to you is important."
Amber Orosco '19, who identifies as multiracial, decided to take part in the photoshoot as a means of pushing back against the status quo of beauty standards on campus.
"I thought it was really important to create visual rhetoric around women of color, particularly around how women of color are seen as beautiful, especially on this campus, because we're not the go-to standard of beauty," Orosco said.
Orosco said she frequently notices her identity as a woman of color on the weekends.
"[My identity] is most relevant during the party scene, realizing that you're the odd person out," Orosco said. "You see people hooking up and none of them look like you, and you feel like whoever you are attracted to is not looking at you."
In addition to activist goals of the photoshoot, the leaders also wanted to create a safe space for women of color to meet each other, share their experiences and bond as a group.
"We were encouraging women to build relationships with each other if they haven't had the chance to meet before," Tesfamariam said. "We had freshman through seniors in the room and now everyone has a reason to say, 'Hey let's get a meal.'"
Students who attended the photoshoot found the experience of community-building both positive and exciting.
"People that you didn't know were coming up to you and were saying, 'Wanna be friends?' It was one of the greatest feelings, because we had this common thread of being women of color or multiracial and how we deal with that at Bowdoin," Orosco said.
The women behind the photoshoot want the display to capture the attention of the Bowdoin community, and inspire people to reflect on the goals of the initiative and to acknowledge the importance of the topic.
"I hope that this is a way to visualize that women of color are saying, 'We're here, we matter, we're important to ourselves and we want to be important and valued by others as well,'" Tesfamariam said.
"I hope it starts a discussion about different perspectives and different views that people on campus are having because of their identity," Santizo added. "I think that since we tend to group ourselves in homogenous groups, we tend to not hear different experiences, and it's important to hear different experiences, especially from marginalized groups."
"Beauty in Color" will be displayed in the Lamarche Gallery in David Saul Smith Union beginning today for the entirety of March, which is also Women's History Month.